In profound sadness, we share the passing of our long-time member, beloved friend, and Honorary Member, Jim Jerose. Jim passed away peacefully at his home, this morning. His wife, Kathie, has assured us that his passing was peaceful, with no suffering. Below is Jim's obituary. He was a friend to all, and will be missed by so many. Rest in Peace, dear friend.
James N. Jerose
August 23, 1949 - March 20, 2019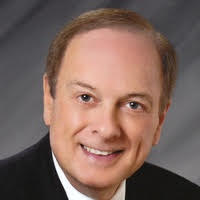 On Wednesday, James N. Jerose, 69, of Liverpool, NY passed away peacefully at home after a short battle with amyloidosis.  He was born in Syracuse, NY, son of the late Nicholas P. and Germaine (Heppell) Jerose.  A graduate of CBA, Jim continued his education graduating from OCC, SUNY Oswego and the Newhouse School at Syracuse University.  He was bestowed an honorary degree from LeMoyne College 2005.
Jim was a fixture in the health insurance industry in Central New York, starting his career at Blue Cross Blue Shield of CNY, senior vice president of marketing at PHP and at RMSCO.  He was employed as an executive at the Syracuse Chamber of Commerce and SUNY Oswego Metro Center.  He also operated his own consulting business, Nuvenu, Inc.
Jim volunteered his time extensively with the Syracuse Chamber of Commerce; Citizen's Foundation; Syracuse Executives Assoc.; CNY Health Systems Agency; Francis House; trustee at St. Camillus Health and Rehabilitation Center; past Board Regent at LeMoyne College; past board member of CNYSHRM.  He is current board chair of the American Heart Association-Syracuse District.  He was a member of the Century Club, OHA and CNY Genealogical Society.
Jim lived life to the fullest.  He would want you to do the same in his memory.  He was predeceased by his two brothers, John and Daniel.
He is survived by his wife of 45 years, Kathleen Adams Jerose, two sons, Kevin (Katherine) and Jay (Danielle) and the love of his life, his grandson, Nicholas, step-sister, Martha Whitehead, sisters-in-law, Nancy Jerose Dillingham, Marion Jerose, Carol Jerose, brother-in-law, Albert (Sharon) Adams, two aunts, several nieces, nephews and lifelong friends. 
Calling hours will be held on Thursday, March 21, 2019 from 4:00 to 7:00 pm at the Maurer Funeral Home Moyers Corners, 3541 State Rt 31 Baldwinsville. A Mass of Christian Burial will be celebrated on Friday at 10:30 am in St. Joseph the Worker Church, 1001 Tulip St., Liverpool.  The Rite of Committal and entombment will follow in Our Lady of Peace Mausoleum Cemetery, Baldwinsville.
In lieu of flowers, contributions may be made to the American Heart Association Heart Walk, Francis House or CBA.